Join The Next Generation of Cozy Mystery Lovers
In college, for one glorious year, I worked at the library. It was the best job I ever had, and sometimes I regret I didn't become a librarian. I don't know how it works where you live, but you can't just randomly decide to be a librarian here. You must earn a master's of library science degree, and it's a kind of long and costly process. Having already studied journalism, the dying industry of print journalism at that, and later getting an MBA, it doesn't seem prudent to get another master's degree. Especially considering around here, libraries are constantly at threat of losing funding. Considering the rise of e-books, and people's tendency to skip libraries and the bookstore, it's not a prudent step.
Besides, this is my actual job – working to get my own books into those library's and bookstores, for as long as we can collectively keep the doors open. I'm blessed enough to stay home with my daughter and write; you know, when my tiny toddler tyrant and her dad's work schedule let me. And yes, that is why this blog doesn't follow as clear of a schedule as I'd like, but I'm working on it.
Anyway, during that year at the library, in my early 20s, I found a love of cozy mysteries. When you work at the library, they highly encourage reading. Since that was already my jam, it was a bonus. Cozy mysteries were incredibly popular in the small, rural college town in which I lived. I'll admit, I didn't wear my cozy mystery badge loud and proud. Most of my comrades were clearly nice older ladies who loved to knit and bake cookies. Granted, I like to do all of those things too, so maybe I'm just a little old lady trapped in a 30-something body. Anyway, I recently I stumbled upon this article by Kate Lansing, exclaiming that Millenials had finally discovered Cozy Mysteries. It was a pretty great day.
I hate to admit to being a Millennial. People have made it seem like a pretty dumb thing to be. But it's not, and it's what I am. I've grown up mostly around computers. In elementary school, they had us playing Oregon Trail and other weird learning games a couple times a week in the computer lab. My Gen A baby already has a tablet. I don't accept Mom shaming, thanks. We're homeschooling/unschooling, so we're a plethora of crazy over here and don't need any second opinions about screen time.
Cozy Recommendations
In the more than a decade since I discovered cozy mysteries, I have learned to accept my love of them and I'm excited to share that love with you. I hope you consider exploring the genre with one or more of my favorites. While I can't remember what the first one I read was, I can share some of my favorite's through the years. And they're not on the typical list of Agatha Christie and Miss Marple.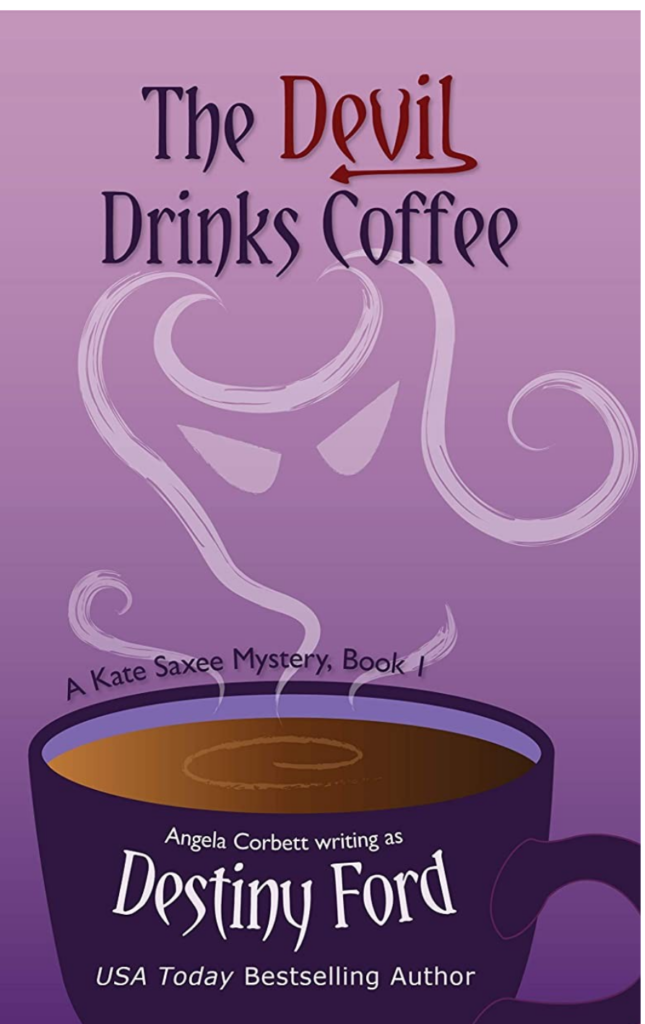 My most recent Cozy Mystery find was Destiny Ford's Kate Saxee series. You can actually find my review of her series on this blog. The first "The Devil Drinks Coffee" is here. The second is here, and the third (and final so far) is here. Kate Saxee is a whip smart investigative journalist in a small Mormon town in Utah. She isn't Mormon, and it gets her in trouble a lot. An ad for the first book drew me in to this series. It was definitely a title worth investigating.
Another of my more recent finds is Charlaine Harris's Aurora Teagarden series. I had already read several of Harris's works, starting with her Sookie Stackhouse series, but that isn't cozy at all. Aurora is a librarian who is a member of the Real Murders club in her small town. They enjoy talking about actual crime, and when the opportunity strikes, of course Aurora can't pass up a chance to investigate a real one. This series features ten books. I haven't heard that she plans to continue it, but the final book hit stands in 2017, so who knows. The series starts appropriately with "Real Murders." Hallmark has turned several books from the series into movies, casting Candace Cameron-Bure as Aurora, but as with most books, the movies aren't all that similar.
Another of my favorite cozies is Joanne Fluke's Hannah Swensen Series. The first in the series is "Chocolate Chip Cookie Murder." If you're looking for a nice long series to settle into, this is it. With the release of "Triple Chocolate Cheesecake" this month, Fluke boasts 30 books, which include two novellas, 27 full-length novels, and one cookbook featuring a short story and recipes. Each book also contains several recipes. Hallmark also turned these into movies starring Alison Sweeney. Like most books turned to movies, they aren't very true to form. I'm particularly annoyed by the choice to cast the blonde Sweeney, and leave her hair alone, when the books make a big deal out of Hannah's red hair. But that's a whole other rant.
Sue Jaffarian's Odelia Grey series might be a bit of a special interest one, especially if you're a Millennial like myself. It might not resonate with you, but I adored them. Odelia, a plus-sized, middle-aged woman who at the start of the series has never married, is a little older than me. But, since I'm personally plus-sized, I could really relate to that aspect of her character. This is very much a case of representation matters for me. Her first book is "Too Big to Miss." The Odelia Grey series is another somewhat long series. Jaffarian has given us twelve books so far. She actually has some other cozy mystery series, too. I haven't read them yet. If you beat me to it, let me know how you like them. Her Odelia stories are so good, I can't imagine they're anything less than fantastic.
Should You Read Cozies?
So, I'm not a new cozy mystery lover. Before I learned the term cozy mystery, I liked to use the term "accidental detective," because that's really what a cozy mystery is. It's someone who isn't a detective – a baker, a journalist, a librarian, a legal secretary -sticking their noses where it doesn't belong. Why do these stories resonate with us? For one thing, they are 100 percent cozy. Sure, they have some minor elements of danger and suspense, but it's safe and sound. We know the lady is going to wander into a situation she shouldn't, but we know that it's going to be tied up in a neat bow at the end.
If you're a devout feminist, you might not like cozy mysteries. While I was a feminist in the past, I consider myself more of a humanist now. Though, I believe feminism fits into that. Anyway, sometimes these stories focus a little too much on the romance. Love triangles are almost a given. But they're frequently extremely wholesome. Cozy mysteries are the literary equivalent of a Hallmark mystery. So, if you're prone to holiday movie binges, then yeah, these are probably for you.
I'm excited for the list of new possibilities that Lansing has given us in her article. And I'm also please to share my love of this genre with you. If you're interested in more suggestions, hit me up in the comments.
Potential Content Warning: The Destiny Ford series is newer than the other's listed here, but that doesn't mean the others aren't amazing. I'll admit, it's been awhile since I've read them, so they could have lost some things in translation. As we all know, we all learn things as a culture and realize how things change. So if I forgot something offensive in one of these books, I apologize for the oversight.